Longevity is powered by Vocal creators. You support
Darryl Richie
by reading, sharing and tipping stories...
more
Longevity is powered by Vocal.
Vocal is a platform that provides storytelling tools and engaged communities for writers, musicians, filmmakers, podcasters, and other creators to get discovered and fund their creativity.
How does Vocal work?
Creators share their stories on Vocal's communities. In return, creators earn money when they are tipped and when their stories are read.
How do I join Vocal?
Vocal welcomes creators of all shapes and sizes. Join for free and start creating.
To learn more about Vocal, visit our resources.
Show less
CalmandStrong: The Connection Speech: 2017
My inspirational speech about connecting my experiences and realities of being a two-time cancer survivor and hip amputee to the digital world of the inFAMOUS videogame franchise and superhero Cole MacGrath.
Darryl C. Richie is an inspirational speaker and author looking to inspire with his story of being a two-time cancer survivor. Audiences can expect to hear how he connects his experiences and realities to the digital world of the inFAMOUS video game franchise and superhero Cole MacGrath.
Images displayed are from my darkest days while I was dealing with having cancer as a teenager. Also, displaying are images and videos from the inFAMOUS video game franchise.
My speech is entitled, "CalmandStrong: The Connection." I describe how I was diagnosed with Stage I knee cancer at 14 years old and had to get a knee replacement. The cancer also came back in my right knee at Stage IV at 17 years old, and it traveled to my right lung, and a needle biopsy was used to remove it, which was a success.
Since I already had a reconstructive knee at 14 years old. The Doctors had no choice but to amputate my right leg to save my life in 2003. Now I am a hip amputee and could only walk with a prosthetic leg.
In 2009, the original inFAMOUS video game was released and changed my life for the better because I finally found somebody I could relate to with superhero Cole MacGrath's inspirational story.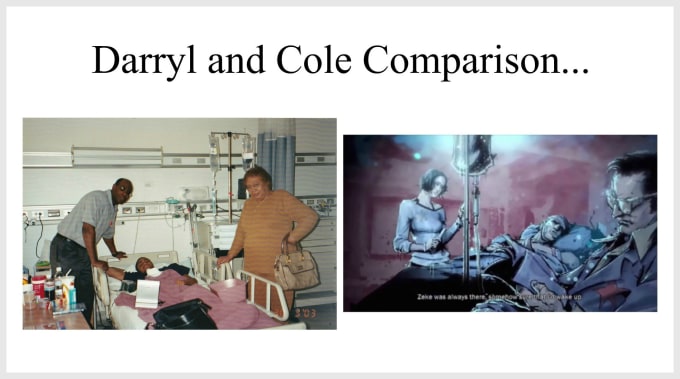 I feel my story is similar to that of a superhero because of the adversities I was forced to overcome, and it made sense for me to compare my story to my favorite superhero: Cole MacGrath.
The inFAMOUS franchise showed me whatever happened to me in the past cannot be changed, but I have the choice to do something about my future. The game gave me everything I've been looking for ever since my right leg got amputated at 17 years old. I finally found somebody I could relate to with Cole's inspirational story.
I eventually graduated from Victor Valley College with an Associate Degree in Liberal Arts, with an emphasis in Journalism. I finished my undergraduate studies at California State University, Long Beach with a Bachelor's Degree in Journalism and a Minor in Africana Studies in 2012.
My evaluator loved that I used this unique quote from Hip-Hop artist Nas to begin my speech because it was very powerful. 
"When everything around me got cloudy, the chair became a king's throne, my destiny found me. It was clear why the struggle was so painful. Metamorphosis, this is what I changed to and God, I'm so thankful." - Nas, You're Da Man, Stillmatic
She noticed I connected my personal story perfectly to the quote, which gave my speech a more powerful impact on the audience.
She thought it was extraordinary that I could take the audience through my emotional journey in a very appropriate way. My speech was easy to follow, and the audience understood the process of what I had to go through being a two-time cancer survivor and hip amputee.
She also noted my ability to organize my speeches have sky rocketed since I first joined the Toastmasters club almost two years ago.
My evaluator also noticed when I said a sentence, my voice dropped at the end, and she suggested to work on that because that's where the power is.
I planned on using the introduction video from the original inFAMOUS to help bring the audience into my speech, but the audio wasn't working. The universe didn't want the video to be present during my speech and I was disappointed, but I knew it wasn't the end of the world and I still performed great.
"When you feel passionate about something, follow your instincts because Nothing is More Powerful Than a Made up Mind." – Darryl C. Richie
Disclaimer:
I do not own any image and video content from the inFAMOUS video game franchise.
No Copyright Intended. All image and video content is copyright to their respective owners. All content is property of Sony Computer Entertainment America (SCEA), developed by Sucker Punch Productions.