CalmandStrong: Part 2.5 Slideshow Video with inFAMOUS Music Montage
Slideshow displaying photos from my experience with cancer and becoming a hip amputee. Also, the inFAMOUS video game franchise and Hip-Hop artist Nas help tell my story.
Darryl C. Richie is an inspirational speaker and author looking to inspire with my story of being a two-time cancer survivor. Audiences can expect to hear and read how I connect my experiences and realities to the digital world of the inFAMOUS videogame franchise and superhero Cole MacGrath.
Images displayed are from my darkest days while I was dealing with having cancer as a teenager.
Also, displaying are images and videos from the inFAMOUS videogame franchise (inFAMOUS and inFAMOUS 2), along with album covers from Nas' Stillmatic and The Pharcyde's Labcabincalifornia.
From 1999-2000, I was diagnosed with Stage I knee cancer called Osteosarcoma at the age of 14 years old. Osteosarcoma is the most common bone cancer, and accounts for 3% of all cancers that happen in children. It is one of the few cancers that begin in the bones and sometimes spread elsewhere, usually to the lungs or other bones.
This cancer usually affects teens who experience a growth spurt. Boys are more likely to have osteosarcoma than girls, and in most cases the cancer involves the knee.
While doing my chemotherapy treatment, I had to get a knee replacement, and learned how to walk with an artificial knee with help of physical therapy.
From 2002-2003, at 17 years old, I noticed a sharp and throbbing pain in my knee that I was well too familiar with when I was 14 years old. I was devastated when I found out the cancer came back at Stage IV in the same knee.
While doing my chemotherapy treatment regimen at 17 years old, the cancer had traveled to my right lung. A needle biopsy was used to take the cancer off my lung, which was a success.
Lung cancer accounts for more deaths than any other cancer in both men and women, an estimated 155,870 deaths are expected to happen this year in 2017, according to the American Cancer Society.
Since I already had a knee replacement, there was nothing further doctors could do but amputate my right leg to save my life in 2003. Now I am a hip amputee and could only walk with a prosthetic leg.
After my surgery, I began experiencing phantom pain, which was extreme pain where my right leg was amputated.
Although my right leg was no longer there, the nerve endings continued to send tingling, cramping, heat, and cold pain signals to my brain and made me feel like my right leg was still there.
This experience was the most difficult for me to deal with because I had my right leg my whole life, then after a few hours of surgery it was gone forever.
From 2004-2008, it was difficult for me to deal with the realization that I was going to be physically disabled for the rest of his life, and only walk with a prosthetic leg. I was insecure because all I wanted was my real leg back.
Inspiration from Video Games...
In 2009, I had an emotional connection that changed my life when a video game entitled, inFAMOUS was released May 26, 2009 for the PlayStation 3.

inFAMOUS focuses on main character Cole MacGrath who is a bike messenger turned electrical superhero. Cole was making a routine delivery, and a package exploded leveling six square blocks of Empire City. Cole was in the center of the blast, alive, but changed, and able to control electricity.
I feel what I've been through is a superhero story because of the adversities I was forced to overcome, and it made sense for me to compare my story to my favorite superhero: Cole MacGrath.
I felt like I knew what Cole was going through when electrical superpowers were forced upon him because I was forced to have knee cancer twice during my teen years.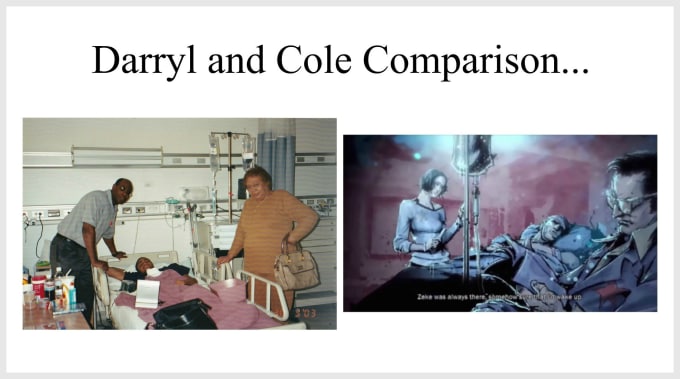 I was at Loma Linda Hospital (Loma Linda, CA) hooked up to an IV pole with my Grandmother and Uncle by my bedside; similar to Cole (inFAMOUS videogame franchise) who was also in the hospital hooked up to an IV pole with his girlfriend Trish and best friend Zeke by his bedside.
In 1999, this photo was taken of me when I was 14 years old, and the other image I lifted from the original inFAMOUS, which was released in 2009.
How inFAMOUS Saved my Life...
The inFAMOUS franchise showed me whatever happened to me in the past cannot be changed, but I have the choice to do something about my future. The game gave me everything I have been looking for ever since my right leg got amputated at 17 years old. I finally found something I could relate to with Cole's inspirational story.

Accomplishments...
I've overcome many adversities and graduated from Victor Valley College with an Associate's Degree in Liberal Arts, with an emphasis in Journalism in 2008 (Victorville, CA).

I also finished my undergraduate studies at California State University, Long Beach with A Bachelor's Degree in Journalism and a Minor in Africana Studies in 2012 (Long Beach, CA).
Inspirational Quote...
"When you feel passionate about something, follow your instincts because "Nothing is More Powerful Than a Made up Mind." - Darryl C. Richie

Disclaimer:
I do not own any image and video content from the from the inFAMOUS videogame franchise.
No Copyright Intended. All image and video content are copyright to their respective owners. All content is property of Sony Computer Entertainment America (SCEA), developed by Sucker Punch Productions.
I do not own any content from the images displayed from Nas' Stillmatic album cover and The Pharcyde's Labcabincalifornia album cover.
No Copyright Intended. All image and song content are copyright to their respective owners. All rights go to Nas, The Pharcyde and Blu & Exile.