Longevity is powered by Vocal creators. You support
Alicia Springer
by reading, sharing and tipping stories...
more
Longevity is powered by Vocal.
Vocal is a platform that provides storytelling tools and engaged communities for writers, musicians, filmmakers, podcasters, and other creators to get discovered and fund their creativity.
How does Vocal work?
Creators share their stories on Vocal's communities. In return, creators earn money when they are tipped and when their stories are read.
How do I join Vocal?
Vocal welcomes creators of all shapes and sizes. Join for free and start creating.
To learn more about Vocal, visit our resources.
Show less
Best iPhone Armbands for Exercise
Find the Best iPhone Armbands for Your Activities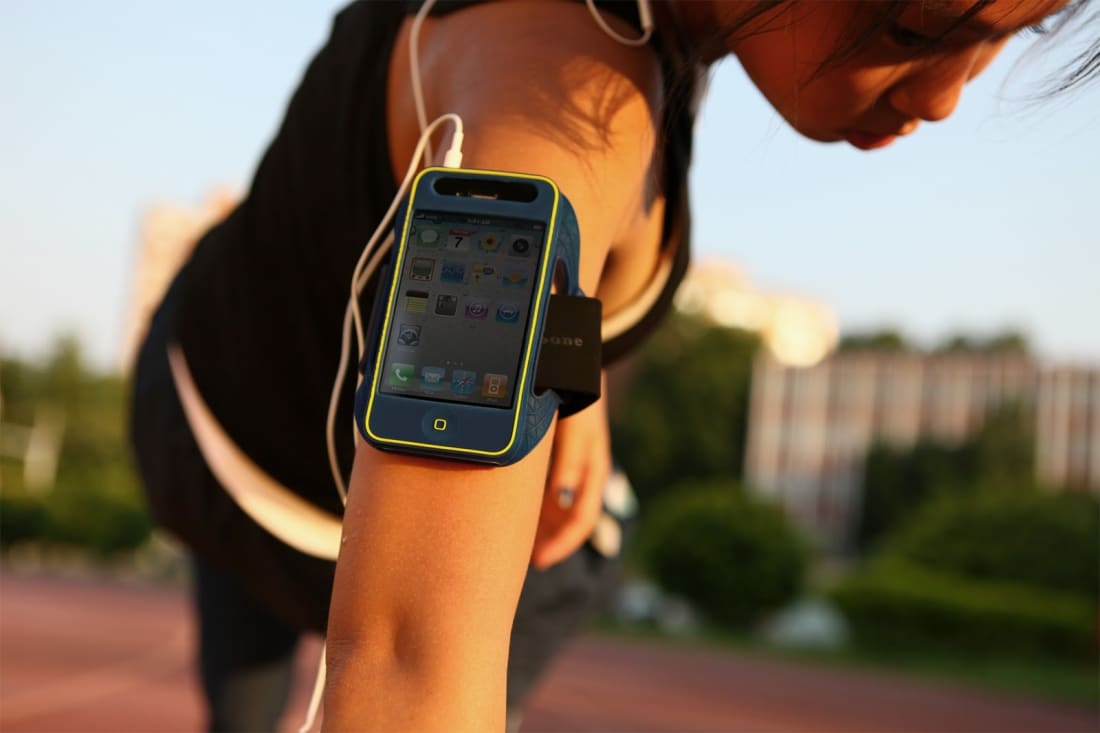 iPhone armbands are a fantastic invention. They can enable you to enjoy hands-free use of the device whether you're just reclining on the sofa, walking to work, doing chores, or working out. Yet, as is the case with almost any product in the world, not all are alike or ideal for your needs. In this review, we are going to consider the best iPhone armbands for exercise, but one of the biggest factors for you (as the consumer) to realize, is that the pros and cons need to be applied to your scenario.
For example, I am a walker who does around five miles a day. I also use my iPhone 6s when house cleaning. Because of that, I need iPhone armbands to be water-resistant, have a key pocket so I don't have tote mine with me, and allows me to easily hit the home button and screen. Will you need those specific issues? It is likely that most of us opt for iPhone armbands that allow easy access to the device, but which also work as protective cases with a sport armband, adjustable to most arm sizes.
Perhaps you are even more athletic? You might need a sport fit with your iPhone armbands, and reflective materials that are also sweat-resistant might be of greater benefit to you.
There are also the basics that all of us—athlete to gentle walker alike—will want. These include built-in screen protectors, easy access to your iPhone, and even slots for credit cards or a house key. Many iPhone armbands are hand washable, making them a bit more appealing.
So, now that you see just how many ways the iPhone armbands can be found and/or designed, let's take a bit of time to find out what the experts are saying about the very best of the best on the current marketplace.
The Best iPhone Armbands for Everyone Who Owns an iPhone Other Than iPhone X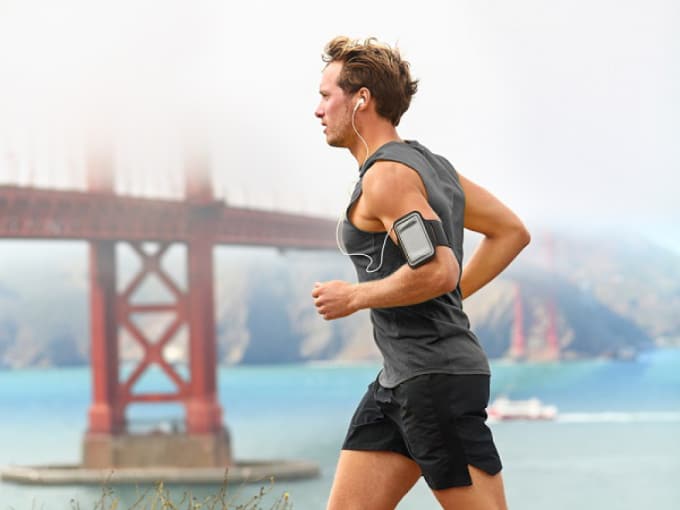 NOTE: The iPhone X is a unique creature, if a particular band does work with this larger and less common model, we will specify.
Running Armband by YORJA
The YORJA is a runner's armband and it even works with the iPhone X (as long as it is not in any other sort of protective case. It is one of the most flexible on the market and includes pockets, adjustable sizing, space for headphone storage, and even a key slot. At one of the best price points imaginable, it is a must for anyone who runs, walks, or runs errands with their iPhone handy.

Armband by Trianium
Next is the Trianium Armband. Though it does not work with the iPhone X, it does work with a lot of the larger models, including iPhone 8 and Galaxy Note 8. It is easy to access a phone through the screen and it adjusts to different arm sizes quickly and easily. It is also available in seven unique colors including hot pink, mint, and purple. So whatever your style is, this case is one of the fitness fashion trends you need to try.

ArmTrek Armband by Trianium
Another commonly suggested variant from Trianium is their ArmTrek Pro that works with many iPhones and is a fully adjustable fit armband and allows access to the phone. It also features seven unique colors and is even stretch-resistant for all of you attempting to learn how to gain lean muscle for the summer and may swell up and need it.

Topist Armband by CaseHQ
If you are looking more for a lightweight solution, the Topist Running Armband is a good choice. With a pouch and compatibility with almost all iPhones, excluding X and the 8s, it features a strap for headphones, is fully adjustable, and weighs only 1.6 ounces. The Topist is also perfect for the extremely outdoorsy types, being sweat, water, sand, and slip-resistant, making it perfect to conquer any element you use it in.

Ultra i-35 Armband by Armpocket
If a higher price point doesn't matter to you, the Armpocket's Ultra i-35 really is an amazingly comprehensive solution. It works with all iPhones, including X, and features a small pouch that can easily fit credit or ID cards, cash, a key and more. It ensures easy access and can even be found in different colors.

Water-Resistant Cell Phone Armband by Tribe
The armband from Tribe is another example of an iPhone armband that can do it all. It has a key pocket, comes in a variety of vibrant and reserved colors, has a weatherproof design, and can adjust to whatever size your arm may be. 
Oh, and it just so happens to be recognized as an official Amazon Choice. For those of you who may not know, Amazon recognizes products that are priced well, reviewed highly, and ship quickly as Choices, and they are marked as such. And if you can't trust Amazon, who can you trust?
LifeProof Case by Tune Belt
If you need sweat resistance and even some water resistance, there are options like the LifeProof Case from Tune Belt that works with many kinds of devices and is crafted from moisture-resistant, high-quality neoprene. Adjustable and with a band for earphones, it is the right choice for runners and cyclists as well as those that need simple protection while outdoors.

Sport Running Exercise Gym Sportband by LOVPHONE
Coming with a lifetime warranty from LOVPHONE, this case is as reliable as they come (and if it isn't, you get your money back! Win-win!). The water-resistant neoprene and PVC screen protector ensure that whatever high-intensity workout you're doing, your phone will remain safe and sound. Additionally, the band is specifically designed to twist and bend, so you won't have to worry about any malfunctions no matter how exotic your fitness routine is.

Light Runner Band by Griffin
If you are out at night to exercise, then you may want to consider one of the top reflective options, the Griffin Lightrunner that works with models up to the iPhone 7 and SE, and which is simple and functional, keeping you and the phone safe as you exercise after dark through the use of LED lights. It can adjust to fit arms up to 18 inches and is on the cheaper side of iPhone armbands.

Locks over Bands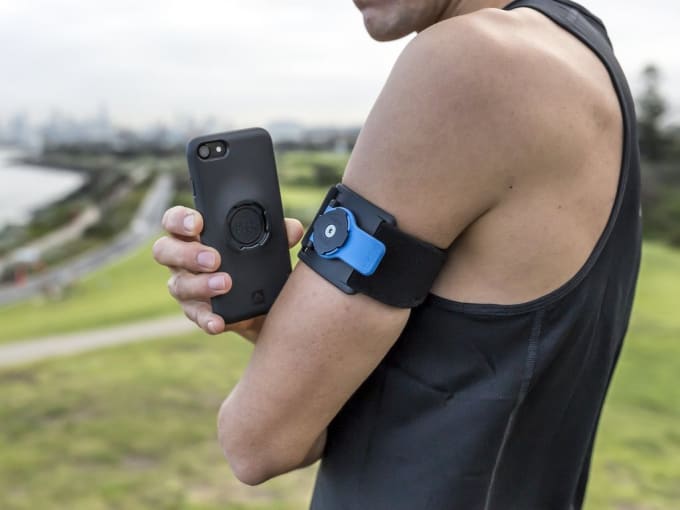 Of course, when talking about iPhone armbands designed for active use, exercise or outdoor use, there are the "lock" style options, too. Entirely different from the typical sleeves (which require you to slide the iPhone into a clear pocket), the locks use a two-part system which includes the actual cover over the phone and the band that affixes to the arm. Each feature one-half of the locking mechanism and they lock together for use. Most are dual stage locking to ensure security and stability.
Run Kit by Quad Lock
The most recommended iPhone armbands of this kind include Quad Lock Run Kit for iPhone 8/7 or the larger Quad Lock Run Kit for iPhone 8 Plus/7 Plus. Both are designed to work with those specific models and offer fully adjustable sizing.
Quad also makes a case for the iPhone X, and all options can be paired with bike mounts, too.
Conclusion
Clearly, you have more than enough choices to find the iPhone armbands that work best for you. Whether you're looking for killer workout accessories to slay or just something on the cheaper side, make sure you know what you're looking for. Decide if you want it to be a replacement case for when exercising or whether you need it to accommodate the case you are already using, figure out if you want a lightweight model or a functional pouch, consider water and sweat proofing, and then make your choice from among the many highly rated and recommended iPhone armbands here.