Best Essential Oil Diffusers
Find your Zen and improve your environment with the best essential oil diffusers on the market.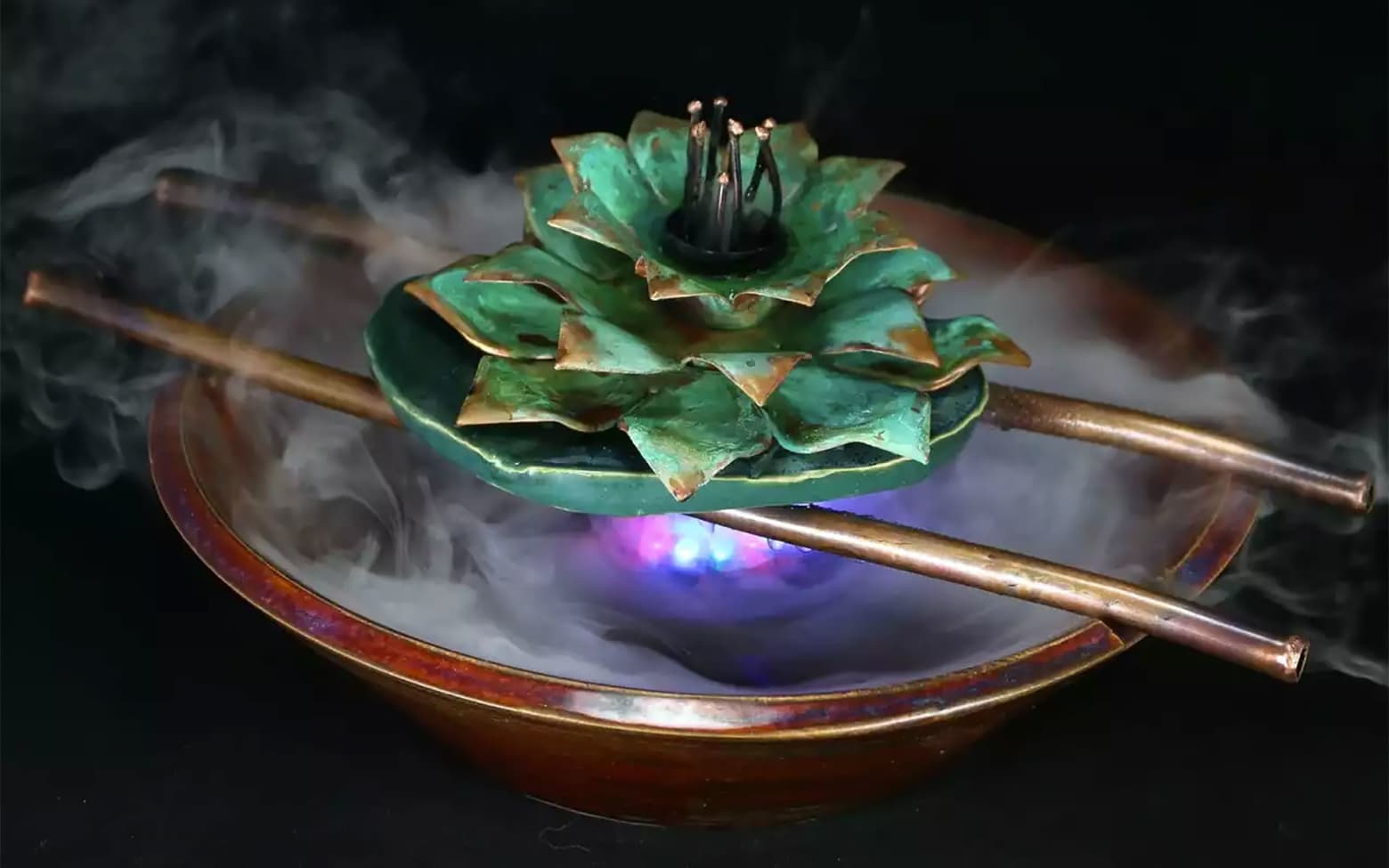 Whether or not you believe in the effects of aromatherapy, you can definitely enjoy the good scents and humidifying properties of the best essential oil diffusers. Technology has allowed us to combine small humidifiers with essential oils so that you can improve your breathing or just improve your environment. You can put one by your bed to relax with the scent of lavender, in your yoga studio to help clear the lungs, by your makeup mirror to humidify and cleanse your skin, or even just in the bathroom to clear out bad smells. The best essential oil diffusers are portable, easily refillable, and they usually come with extra features like color changing lights or even speakers.
How Essential Oil Diffusers Work
In the past, you had to diffuse essential oils the low-tech way by putting them in an oil diffuser that used a candle or other open flame to heat the oil. These days, you can use an electric essential oil diffuser to get the aromatherapy benefits with little effort. Diffusers work by breaking down the oils into super tiny particles with ultrasonic vibrations, and then they spray the particles into the air, letting the oils be more easily absorbed in the lungs. The best essential oil diffusers are also humidifiers, and they deliver scent and cool steam as well. Most of these models have a water reservoir and a sponge or cotton batting that absorbs the oils. The steam moves through this to carry the micro-particles of oil into the air.

Now, onto our list of the very best essential oil diffusers out there today. From portable diffusers for your desk at work to diffusers that can fill a whole yoga studio, there's a device to meet your needs.
Quamii Essential Oil Diffuser
This an ultrasonic essential oil diffuser that also has a humidifier built into the device. With a 400 mL water well, the Quamii Essential Oil Diffuser is a larger model meant for a whole room, and it can provide oil infused cool steam for 8-12 hours, depending on the setting. In a lozenge shape, it's has a pretty bamboo woodgrain finish in black or natural brown. The color changing LED lights are in a ring around the widest part of the device, and you can set them to cycle through seven colors or glow in one color to compliment your decor or set a certain mood along with the scent.
Radha Beauty Portable Ultrasonic Diffuser
This is one of the best essential oil diffusers out there because it's small and portable, but still delivers the best cool, essential oil infused steam. The Radha Beauty is smaller, with a 100 mL water tank, which makes it perfect for small spaces. You can also set it to work intermittently, which will let it work for longer. This essential oil diffuser and humidifier doesn't have the natural woodgrain finish, but instead it has more of a simple look that highlights the color changing LEDs, making it perfect for a bedside table. The Radha Beauty Portable Diffuser also has an automatic shutoff which ensures your safety. You can customize nearly everything from the pattern and color of the light of the LEDs, including the humidity.
Sterline Silent Essential Oil Diffuser
The Serline essential oil diffuser is on our list of the best essential oil diffusers because it has a sleek, modern look with some great technological features. The look is totally cool, with a frosted glass vase inside a chrome hexagonal sculpture, and it's a good middle ground capacity at 90 mL. Sterline put silent in the name because it's truly quiet, and it comes with some great safety features. Not only will an indicator tell you how much water you need to add, it will turn off automatically if it runs out of water. This essential oil diffuser and humidifier also has overheating protection, so you never have to worry if you've left it on when you leave the house.
Bella Home Mini Essential Oil Diffuser & Humidifier
Bella Home has made one of the best essential oil diffusers in a tiny size that's perfect for travel. The Mini Essential Oil Diffuser & Humidifier really is small, which makes it perfect for your desk at work, a cramped bathroom, a hotel room, or a kitchen counter. Because it's small, it doesn't have all the bells and whistles of other essential oil diffusers, but it delivers great cool, oil-infused steam for all the benefits of aromatherapy on the go. The coolest thing about this essential oil diffuser is that it charges with a USB. It has a built in USB charger, but also comes with a cord so that you can make sure it's ready to go no matter where you are.
InnoGear USB Car Essential Oil Diffuser
Look, cars can be one of the most stressful but also the smelliest places, and we are in our cars every day. Why not enjoy the effects of essential oils when you most need them? Avoid road rage or get rid of that lingering dog smell from taking you best friend the vet with the InnoGear Car Essential Oil Diffuser. This diffuser also produces cool steam, so you can humidify your car as well, and it also has color changing LEDs just like the best essential oil diffusers in full size. How can this diffuser produce steam? It's perfectly sized to fit in your car's cup holder, and it conveniently charges via USB. The InnoGear is perfect for road trips.
Nanum Car Air Humidifier and Aromatherapy Essential Oil Diffuser
This is the smallest of the essential oil diffusers and humidifiers on this list because it's made to fit in your car! The Nanum doesn't just fit in the cup holder, but fits right in your USB charger (what they used to call the cigarette lighter) so that you get scented steam right where you need it. What? That's right, steam! Sansutech has made a diffuser and a humidifier that is so small, it's really amazing. It has a 50 mL water tank and a sponge for diffusing essential oils, and it even has an auto-off function to protect your car. These car diffusers also come in three different colors: pink, purple, green, and blue.
Art Naturals Essential Oil Diffuser with Bluetooth Speaker, Clock & Alarm
Hands down, this is one of the best essential oil diffusers out there today. It's got everything you could want in an essential oil diffuser and some stuff you haven't even thought about! If you want to create an environment with scent, sound, and lights, this is the device for you. First off, let's talk about look. In this diffuser, Art Naturals combined the best of the designs of the other larger diffuser humidifiers with a cute teardrop shape with a natural bamboo wood grain as well as color-changing LED glow. Like some of the other essential oil diffusers on this list, the LED lights can be set to one color or to cycle through seven different colors. It has super quiet ultrasonic vibrations that mist the essential oils, as well as a large capacity 400ml water reservoir for hours of cool steam. The Art
This essential oil diffuser can also play music (or even soothing nature sounds) through the built-in Bluetooth speaker. And there's even more packed into this machine! It also has an alarm clock, making it perfect for a bedroom, but also for a yoga studio or spa because you can set alarms for when a session is over. This diffuser is great for meditation, as it can play a guided meditation and provide a complimentary scent. It can help you sleep, and then gently wake you in the morning with lights, music and scent. The Art Naturals Essential Oil Diffuser is probably the best humidifier and essential oil diffuser out there.
What to Do with Your Essential Oil Diffuser
There are a ton of creative ways to use your new essential oil diffuser. If you have occasional asthma or a head cold, a diffuser with eucalyptus and mint can help clear your lungs and sinuses. For a crazy day, chamomile and patchouli in a diffuser can help calm your household. For restlessness nights, lavender in a diffuser by the bed will ease you into sleep. Bright scents like lemongrass or peppermint can deodorize a kitchen, or use some rosemary and mint in the bathroom for a clean scent. The best essential oil diffusers are easily charged and refilled, so you can use them in any of these situations, or make up your own!