Longevity is powered by Vocal creators. You support
Mina Outreach
by reading, sharing and tipping stories...
more
Longevity is powered by Vocal.
Vocal is a platform that provides storytelling tools and engaged communities for writers, musicians, filmmakers, podcasters, and other creators to get discovered and fund their creativity.
How does Vocal work?
Creators share their stories on Vocal's communities. In return, creators earn money when they are tipped and when their stories are read.
How do I join Vocal?
Vocal welcomes creators of all shapes and sizes. Join for free and start creating.
To learn more about Vocal, visit our resources.
Show less
4 Week Pregnancy Workout Routine Plan
A Workout That Will Ease Aches and Pains of Pregnancy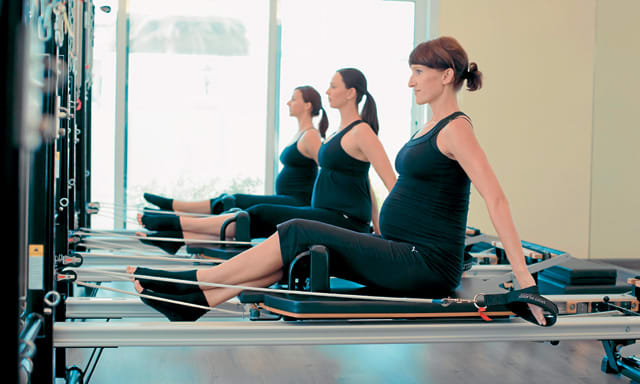 Need a workout that will ease some of the aches and pains of pregnancy, while making you stronger and feel good about yourself? Then try the following exercises on a daily basis (or alternate days, as you feel) and add some stretching for flexibility. Stretching of large muscle groups like quads, hamstrings, chest, and back will help to prevent pregnancy-induced injuries and relieve discomfort. Another benefit of exercising in pregnancy is that you'll not gain any unnecessary weight and post-partum your body will return to normal in no time.
It is overwhelming to think of exercising and eating healthy when you feel so fatigued and huge and have little energy to do anything else. Your body is changing and you feel it. Many of us worry if we are ever going back to the way we used to be? So it becomes more important that we pay attention to our bodies and try to work out in a way that makes the entire pregnancy much easier. Exercising will also help alleviate any discomforts or problems that are commonly associated with pregnancy.
Exercise at any time can improve heart health and stamina, decrease fatigue and constipation, enhance sleep, and improve muscle strength.
Benefits of Exercising During Pregnancy
Lesser weight gain
More energy
Less fatigue
Lesser cravings
Faster and easier labor and delivery
Loss of baby weight faster
Less probability of pregnancy-induced diseases like gestational diabetes and Thyroid disorders
Better sleep
Fewer aches and pains
Now, there are many workout plans that are out-there but not all of them are safe, effective, and easy to follow. So, here is the pregnancy workout routine that you can follow safely and easily, plus it's quite effective.
Week 1-2
Monday
15 Squats
15 Shoulder Presses
15 Deadlifts
15 Stationary lunges per side
15 Lateral Raises
15 Upright Rows
Wednesday
15 Dips
15 Lateral Lunges per side
15 Triceps Kickbacks
15 Stability Ball Leg Curls
15 Pile Squats
15 Dumbbell Overhead Extensions
Friday
15 Dumbbell Bicep Curls
15 Reverse Lunges per side
15 Hammer Curls
15 Plank Straight Kicks per side
15 Curtsy Lunges per side
Women who have not been exercising before pregnancy will benefit from taking up low-intensity programs and gradually move to a higher level. And Women who already attend a regular aerobics class should let the instructor know that they are pregnant so the instructor can modify exercises and advice about suitable movements. It is recommended that every woman who has a normal, healthy pregnancy should get 30 minutes of exercise most days of the week.
Week 3-4
Monday
25 Squats
25 Deadlifts
25 Shoulder Presses
25 Stationary Lunges per side
25 Lateral Raises
25 Upright Rows
Wednesday
25 Lateral Lunges per side
25 Dips
25 Triceps Kickbacks
25 Pile squats
25 Stability Ball Leg Curls
25 Dumbbell Overhead Extensions
Friday
25 Reverse Lunges per side
25 Dumbbell Bicep Curls
25 Hammer Curls
25 Plank Straight Leg Kicks per side
25 Curtsy Lunges per side
Beware of one thing, you must check with a doctor before you start exercising during pregnancy, and you definitely shouldn't exercise during pregnancy if you have asthma, diabetes or heart disease. Regular physical activity boosts maternal and fetal health, and it can make pregnancy, and post-delivery recovery easier. However, it is important to stay safe during exercises.
You can try this four-week pregnancy workout routine plan and do two circuits of each workout per day. Just remember to hydrate before, during and after workouts, have a healthy meal at least an hour before working out, and have a post-workout meal ready for immediately after the workout.